10 Social Media Post Types to Help You Remain Consistent
(and ideas for WHAT to post when you run out of content ideas)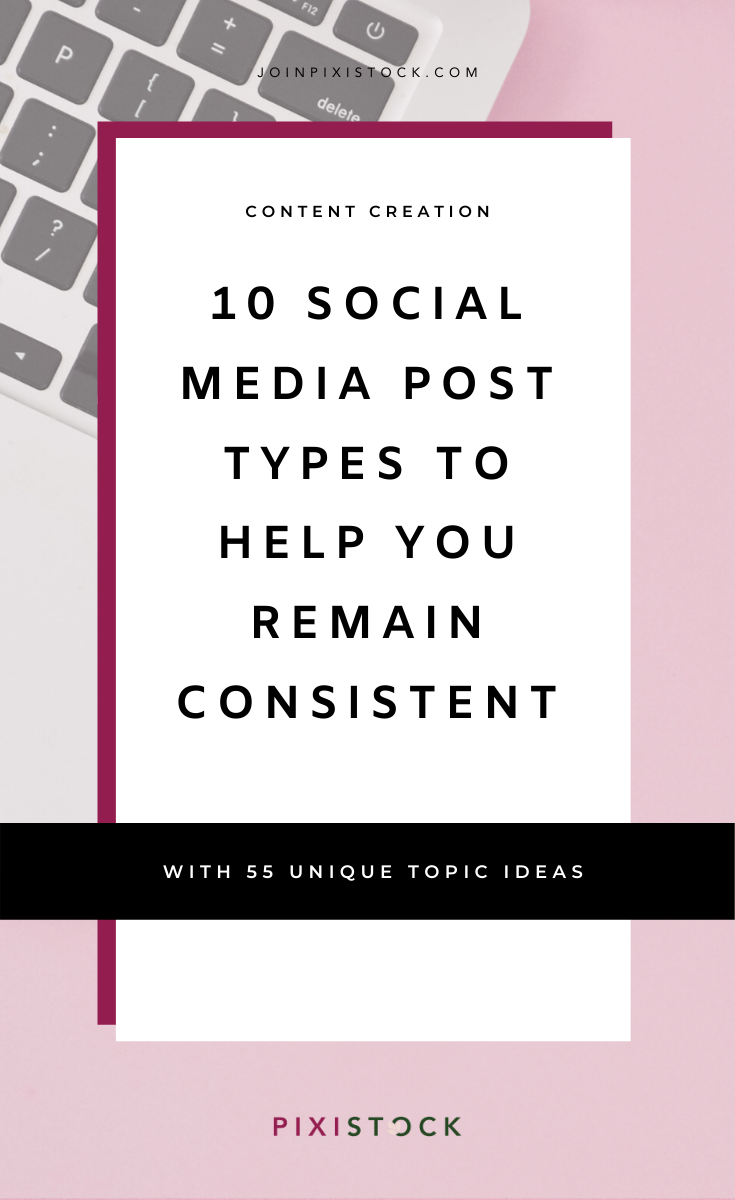 Figuring out what to post to social media everyday can be HARD.
And chances are, if you look at your content as a whole, you're probably leaving some important posts out.
Let's face it, we LOVE to promote our business or blog because it's the one thing we know and are excited about.
But it also the one thing your audience can get tired of hearing about ALL THE TIME.
Like it or not, seeing promotional posts every day is like being bombarded with billboard ads saying "buy now!" every single day about the exact same product.
Don't get me wrong, it's okay to promote your business on social media, but if that's ALL your audience sees you post daily, you'll quickly lose them as a follower or potential customer.
Your social media feeds as a whole need to tell a complete brand story.
Successful brands show many facets to their brand - not just their products and services.
They share their ups, downs, wins, inspirational stories, clients, their team, their thoughts, their values and so much more.
Giving your audience a well-rounded picture of your brand shows them that you're valuable beyond what you're trying to sell to them and you have something substantial and meaningful to offer them whether they exchange money with you or not. 
Storytelling with your content, is one of the best ways to begin getting brand awareness.
(Photo from the Pixistock photo + graphics subscription - right click to download this freebie)
Maybe a potential customer or client isn't interested in your product right NOW, but after seeing a post about your values or what you stand for they're more inclined to sign up for a free offer or even browse around on your site a little.
To present yourself as a storytelling brand on social media, you must provide variety in your posts with these 10 Crucial Post Types.
These categories were formed when I created my Social Media Content Calendar system -
A content calendar that gives you hundreds of social media prompts to plan and create meaningful posts.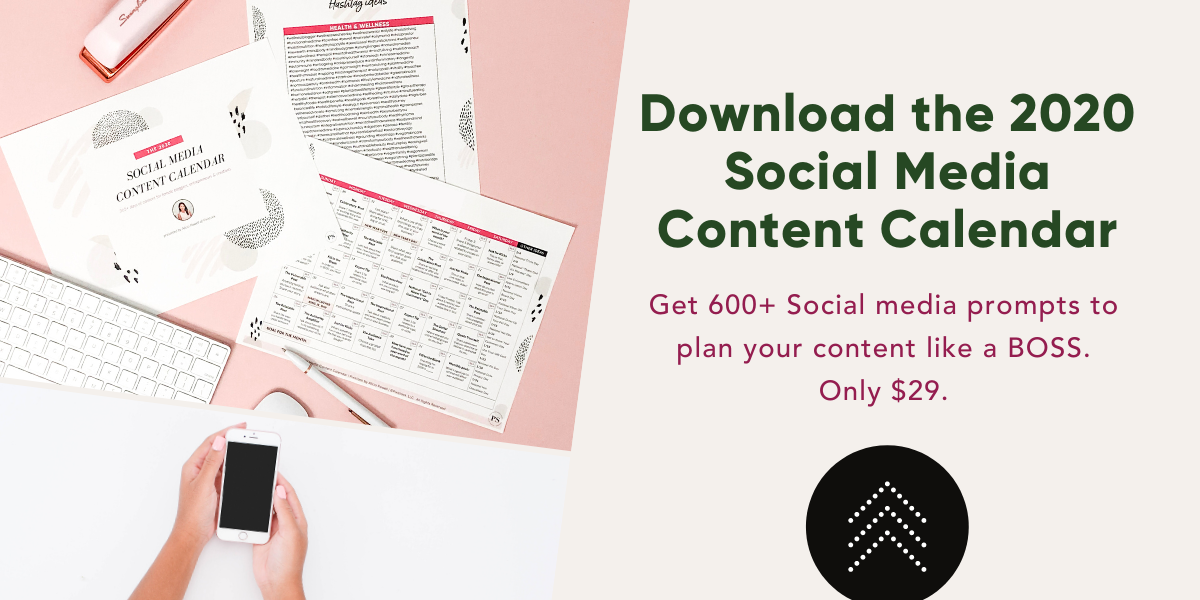 They are my 10 go-to, core content pillars when I have a brain fart or my mind can't come up with new posting ideas in that moment.
Let's dive into each one so you have category ideas to expand your social media content:
10 Content Category Types for Social Media
1. The Authority Amplifier
By far my favorite and probably the most widely used among businesses and bloggers on social media is the Authority Amplifier.
Posts in this category are made to educate and teach your audience something valuable as to preset yourself as an Authority on your topic or niche.
They are intended to preset you as a go-to authority and the person your audience listens to if they want to learn something valuable and beneficial for them related to your topic of expertise.
Authority Amplifier posts should consist of short, quick wins on social media.
Your audience has a short attention span, as they're being bombarded with many other posts from a variety of different people and brands.
In order for them to find what you're presenting as valuable, you'll need to solve ONE problem and give them a quick win in 2200 characters or less (for Instagram) and with a short description (for other platforms).
You can do this with:
Step-by-step tutorials
How to guides
Expounding on a topic
Do's and Don'ts
Sharing facts and statistics
These posts not only show that you have a valuable expertise but train your audience that you are the source in that niche while helping them solve a problem or tackle a pain point.
2. Inspirational Post
One of the posts that get high engagement on social media is the Inspiration post.
These posts are usually the easiest  to create on the spot as you probably just write what you're thinking or feeling that day.
But inspirational posts can be powerful when written the right way.
Most people will just post a motivational quote, an inspirational graphic or write a caption that inspires their audience. However, you can also create inspirational posts that are more than just quotes. 
Here are a few other things you can share:
Your love of a product
New experiences
Brand values and mission
Positive life altering moments
Your goals
Word of the year/month
Inspirational posts have huge sharing potential.
The key is to write in an authentic way that shows your passion on the subject.
These inspiring posts are made to motivate and influence.
3. The Vulnerable Post
The Vulnerable Post type is one that a few of us might be a bit intimidated to share because it requires your brand to be raw, real and authentic.
Authenticity is a strength when it comes to creating content as it shows that you're human (even though you also are a brand), with thoughts, feelings, emotions, or challenges, just like your audience.
When creating Vulnerable Posts, you may be as open or transparent as you like. You control your narrative.
The misconception is that you have to "share it all."
But, on the contrary, you can actually choose how "real" you want to be.
Don't like doing live video without makeup? 
Don't want to talk about your divorce?
Don't want to share your personal struggle?
You don't have to.
But at some point your audience is going to want to see you relate to them and be open, honest and real.
Doing this will position you as approachable, relatable and ready to connect.
In the end, they will know, like and trust your brand all the more because of it.
Some vulnerable posts types:
Challenges/obstacles
Fears/regrets
Sharing self-awareness
Failures/successes
Life-changing moments
Rants
Vulnerable posts are meant to expose and uncover the real, raw YOU.
Always ask your audience to share their experiences as well on the topic to spark conversation and connection.
4. The Audience Take
Here's a post type that a lot of people forget about.
It's natural for us as business owners or bloggers to talk about ourselves and things surrounding our business and lives, but the trick for increased engagement is to always:
Let your audience in on the conversation.
The Audience take is a post type where you directly ask for your audience's opinion or feedback on any given subject or topic.
It also can be a powerful way to get market research as it relates to your business.
Knowing what your audience cares about, is thinking, feeling and more importantly, how they respond to a specific question or type of content will give you clarity and insight into what to post, and how to connect with them.
Here are some examples of Audience Takes you can post:
Agree or disagree?
Product or branding feedback
Choosing the next promotion they want
What would they do?
Thumbs up or down on a topic
How would you feel if….
These conversation starters prove to be super effective if the your audience is already interested in your content and the value you bring.
Don't be afraid to ask them their opinion as it shows that you care what they think.
Audience Takes are for YOU to discover and learn about your tribe.
---

---
5. The Promotional Post
The moment we've been waiting for...
Any opportunity to promote your products or services on social media is needed, right?
Promotional posts introduce and reintroduce your products or services to your audience in a way that compels them to take the next step with you.
While that typically means we want our tribe to buy our product, they won't always purchase right then and there.
Promotional posts remind your audience that you do indeed offer something of value so that when the time is right for them, they know exactly where to go and who to go to to get what they need.
Promotional posts can be:
Flash sales & holiday promotions
Introducing a new product
Highlighting your website
Future products in the making
Countdowns
Freebies and lead magnets
These posts give you the opportunity to feature yourself as a business, and shine a light on everything you offer to your audience.
Do this tactfully though, as over-promoting starts to fall on deaf ears and the "unfollow" is not far away.
6. The Social Shoutout
Do you promote and talk about others on social media too as opposed to always talking about yourself?
This is what the Social Shoutout post type is for.
The Social shoutout is all about fostering and cultivating community.
It entails giving love to other people and profiles in order to connect with them - after all this is social.
Shoutouts show gratitude, that you care about the success of others and highlights some of your favorite people online.
And ideally, they'll shout you out right back.
While social shoutouts are mainly for featuring others, they can also feature your brand as well, when you tell your audience where ELSE to connect with you online. You can do this by linking to your other social profiles.
Here are some shoutout ideas:
A biz bestie
Doing a join live video
Highlighting a client/customer
Case studies
People you work with
Family who helps you
Social shoutouts posts are what social media was made for - to connect with others and build communities. They are meant to highlight and feature.
7. The Relatable Post
Great for personal brands and influencers, relatable posts are simple - they personalize your brand and help you relate on a human level with your audience.
While it's great to talk about your business, as a personal brand, you'll want to share more than just the products and promotions you offer.
How can you relate to your audience on a personal level?
What are some things that your audience should know or probably would like to know about you?
You can post:
About your spouse or kids
Your hobbies and interests
Fun personal facts
Your routines
Daily goals and to-dos
Relatable posts are great for days when you're not working as hard or want to post something fun on the go.
Share your daily life, routines, fun activities, and more.
They are meant to connect and relate so that your audience can get to know you better.
8. The Celebratory Post
Every now and again, you want your audience to get excited about something surrounding your brand, personal or professional life. This is where the Celebratory Post comes in.
Whenever something amazing or interesting happens in your business, don't hesitate to share it with your audience so they may celebrate with you.
This excitement in your community energizes your brand and presents your business as THE place to be for interest, fun and good people.
This makes you worth the follow.
Some Celebratory Posts would be:
Wins/Successes
Milestones
New hires/team members
Successful Trips/Events
Biz birthdays/Anniversaries
Sponsorships/partnerships
Remember to share your brand's unique way of celebrating.
Do you throw confetti?
Pop a bottle of champagne?
Do a silly dance, a unique high five?
These small details show your brand's personality and give you quick posting ideas for Stories, video, TikTok and others.
Celebratory posts are meant to excite, energize and delight.
9. Fill-in-the-Blank
These last 2 post types help give you easy posting ideas for when you need a quick boost of engagement, likes, or comments from your audience.
When paired with an eye-catching graphic, Fill-in-the-Blank posts are an easy post type to get your audience to leave their comments.
Here are a few that you can post instantly:
I'm really good at___.
I need more of ___ in my life.
Today, I will ___ without fear.
___ inspires me to stay motivated.
Choosing the right fill-in-the-blank depends on your niche and the topic you're going to expound on.
Always relate these posts back to your brand.
Give your own take and ask for your audience give their's, to start a conversation.
And if there's anything trending related to your niche or in the world at the moment, alter this post to relate to it, to get more saves and shares.
10. Just-for-Kicks
Sometimes as a brand, your business and profile needs a bit of fun, humor, laughter and engagement.
While these posts may not be specific to promoting your business, if you can relate them back to a topic you're passionate about, one of your products or services, or a valuable tip, you'll have:
Entertained your audience, as well as reminded them about the relevance of what you do.
These can be fun games, jokes, memes, or gifs to lighten the mood, add some humor and give your brand a casual feel for that post.
Try posting:
Your favorite memes
Funny Facts
Fun quizzes
Unique/weird holidays
Share the weather
Remember, always try to relate these witty questions and topics back to your business.
While laughs are great, the more relevant your post is to what you do, the more you train your audience to remember your brand.
---
This is the beginning of learning how to storytell and market your  brand on social media.
Rotate between these posts daily, weekly and monthly to give variety and show your audience that your brand is valuable, relatable, and simply fun.
Doing this consistently will cause your audience to know, like and trust you more because you've given them a wholistic view of your brand story and given them a closer look into your journey.
Need social media content prompts to go along with these?
Download my Social Media Content Calendar System. It's 600+ social media prompts to help you post consistently.