10 Ways to Use Styled Stock Photos to Enhance Your Brand
(and where to get 25 feminine, styled stock photos every, single month!)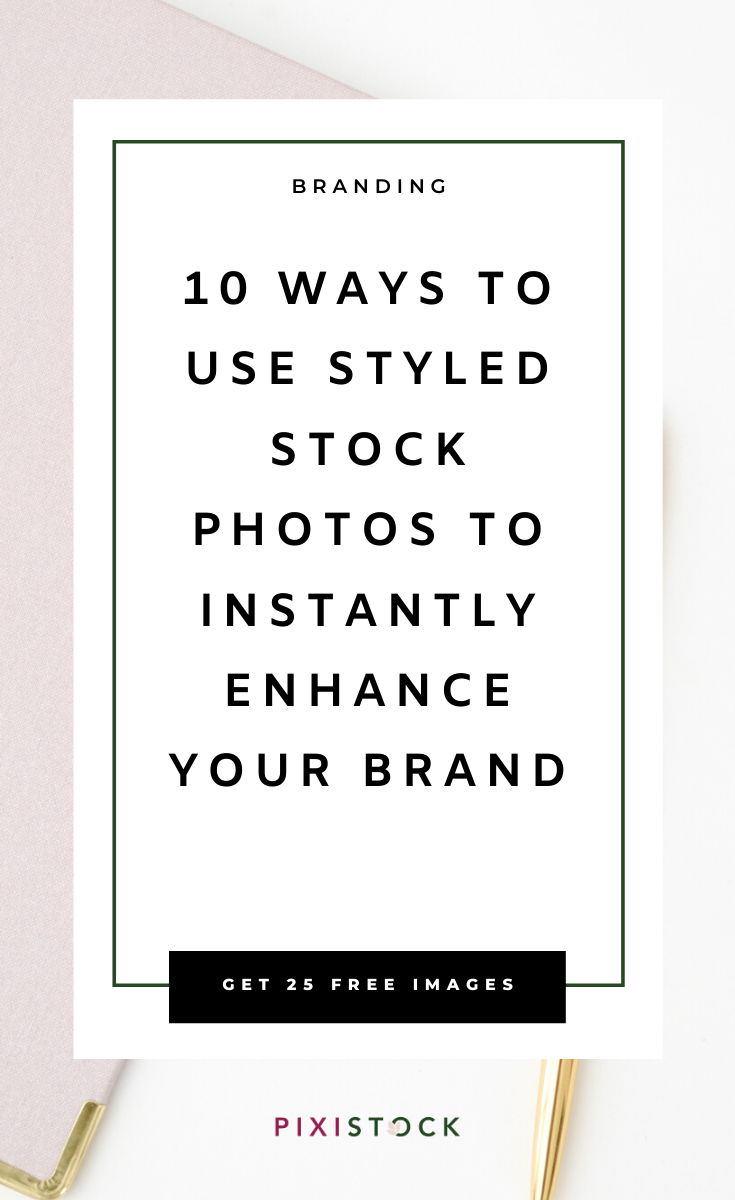 We scroll through Pinterest, Youtube, Facebook, Instagram, and click on an image.
But do we know why? 
Yes, maybe it's the heading- maybe the sales copy or we recognize the brand.  But we can't forget that the images themselves resonate with us.
We are visual creatures by nature and can't help but pause when we see something beautiful, eye catching, or unique.
This is what you want your images to do for you when users are scrolling on social media or online.
Ideally, you want the images on your blog to stop visitors in their tracks so they subconsciously want to "open the door" to what's on the other side of that photo.
So what are some ways that you can use the photos so they have that "wow" effect online?
Here are 10 ways you can use styled stock to attract visitors to your website from around the web.
1. Blog headers
This is the most common and simplest way to use a stock photo.  Leave it as is, or crop it, and add your own text and logo to make it your own.
Use the image at the beginning of each blog post so that it captures the reader's attention and lets them know what the rest of the post is about.
Use a strong headline to complete the look and add your website name somewhere on the image to let users know where to find that article as it's seen around the web.
2. Pinterest posts
One of my favorite uses of styled stock.  Crop the image so that it's taller than it is wide.  An idealPinterest image is roughly 700 x 1200.
Not only can you use it as a Pinterest post but it doubles as a blog header (like in this blog post).  Again, be sure to overlay your text and graphics and create a dynamic headline to capture the readers' attention.
3. Instagram posts
With most styled stock images, you can create multiple photos from one.  Scale it and square crop it to make it the ideal size for Instagram or Facebook.  A 1080 x 1080 image will do.  Create a border overlay or a quote graphic and brand it to your own style.
Check out this post on how to create 31 days of Instagram images from 1 stock photo.
4. Youtube/Etsy/Facebook Covers
Use any stock image as a Youtube banner for your channel page.  Landscape images are especially ideal for banners.  Crop and scale them to the ideal size for the platform you're using.
For YouTube, the ideal banner size is 2560 x 1440 pixels and for Etsy it's 3360 pixels x 840 pixels.
For Facebook, the ideal cover size is 1702 x 630 pixels.
#5 – Digital Sidebar Ads
Here's another one of my favorites.  Use styled stock photos to create attractive sidebar ads - remember, not only to place on other blogs, but on your own website too.  Overlay your sales offer or promotion and scale it to be the optimal size.
For sidebar ads, 300 x 600, 300 x 150, or 300 x 250 pixels work well (for sidebars that are 300 pixels wide).
6. Email newsletters & popup opt in forms
You can also use stock images as email newsletter covers.
At the top of each email, add the image and brand it with your logo.
Use the same image in every newsletter for consistency and crop it so that it is not too large for typical email service providers.
Also, when you came to this site, you probably were welcomed by a popup.
Using the image as a background in the popup is another clever way to promote your brand.
7. Website headers
Make a grand introduction to your website with a bold stock image that will capture your audience instantly!
Add your website name and a strong value proposition to make it your own.
8. Info Product headers
Brand your entire e-course series with a collection of styled stock photos. Use a variety of similar images to create a cohesive look for all of your info products.
Promote them using Facebook ads or on your website.
9. Ebook Cover
In the similitude of how you would use styled stock for Pinterest, scale and crop styled stock images to create tall background covers for your ebooks.
Promote on a landing page with great sales copy and design and attract customers to your digital product.
10. Facebook ads
Using the right image in your facebook ad can be the determining factor to whether your ideal customer clicks through to your site.
Create stunning facebook ads with styled stock that causes your prospects to slow their scroll and see what your business is all about.
The optimal size for Facebook desktop image ads is 1,200 x 628 pixels, so don't forget to scale and crop.
Use minimal text overlayed on the image so Facebook quickly approves your ad.
I hope this was helpful for you.
When promoting your brand online with styled stock photos you can use them in so many different ways.  Think outside the box when creating your ads, Pinterest posts and Instagram images so that your post stands out from the rest.
If you like this post, share it with your friends!
Bonus!
Desktop and Smartphone wallpaper
So okay, this doesn't really attract customers from around the web, but it can definitely help you stay inspired.
Create your own desktop wallpaper to keep you inspired and your creative juices flowing as you come up with your next creative project
Want FREE styled stock photos and graphics to promote your business every month? Click here to sign up!