30 Days of Social Media Content to Post During the Coronavirus Pandemic
(with FREE 30-day calendar)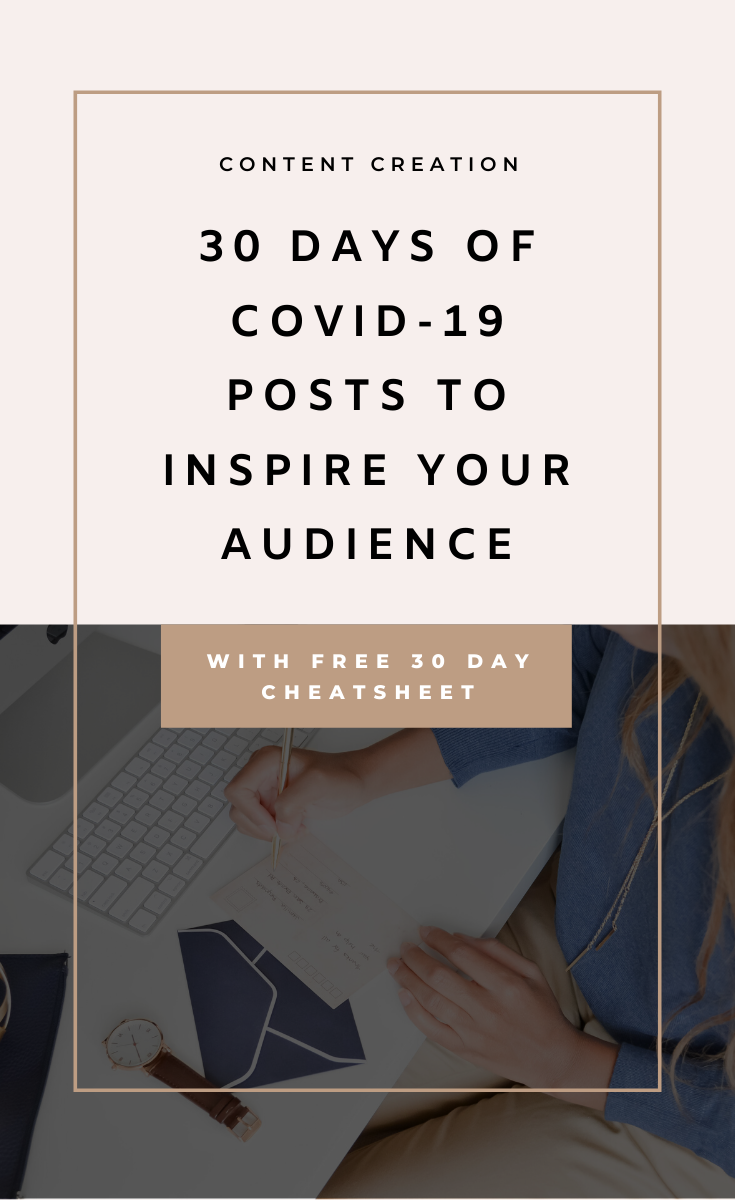 If the Coronavirus pandemic has hit your business hard, you're not alone.
Between figuring out what to post, to what to promote, to how to market your business without feeling guilty, it's a struggle right now.
Whether you feel you can promote any of your products or services or not, the key is to continue to strengthen those connections with your audience so you are memorable through this crisis.
Right now your audience is in a very vulnerable state - and using slimy scare tactics to get them to invest in your brand is short-sighted and wrong.
(That doesn't mean you can't market and promote. Learn how to do it with integrity)
But there are simple ways you can create relevant, meaningful content that strengthens the brand-to-audience bond.
Your audience is still online, wanting to be inspired, entertained and wanting to be distracted from the global pandemic that's happening.
From anxiety inducing news articles, to trying to provide for their families, the stress levels, globally, are extremely high.
That's where you come in.
No, that does not mean throw every one of your offers in their face to purchase. This is a perfect opportunity to:
Be a leader and a voice of calm and reason in this storm.
Reach out and share your own personal brand story.
Start meaningful conversations and learn their newest pain points.
The truth is, if you double down, when others are not, you have a unique advantage to be relevant and remembered.
But let me clarify this:
Having a unique advantage does not mean taking advantage.
But creating consistent content when others are not, will certainly give you an advantage.
*should I say it louder for the others in the back?*
Taking advantage of your audience is the quickest way to lose their trust and respect for your brand.
But I get it. Creating content during a time when you're not sure how to relate the Coronavirus situation back to your business can be tricky.
What to say?
How to say it?
And so I've created a quick 30-day Content Creation Cheatsheet to help you inspire your audience, spark conversation and strengthen the connection with them.
They still want something to lift their spirits during this pandemic. So let your content and social media profiles stand out by being a virtual hub of value for them.
Ok, but what if Covid-19 doesn't relate in any way to my brand?
Right now, focus on building a connection with your audience. This connection may or may not be directly related to something you sell. But if you stand out as a leader and focus on being relatable during this sensitive time, you will continue to grow your audience so that when this is over, you may begin promoting again.
Promotion is NOT the goal of these content posts. Audience connection is the goal.
Here are 30 social media posts to inspire and connect with your audience during the Coronavirus pandemic: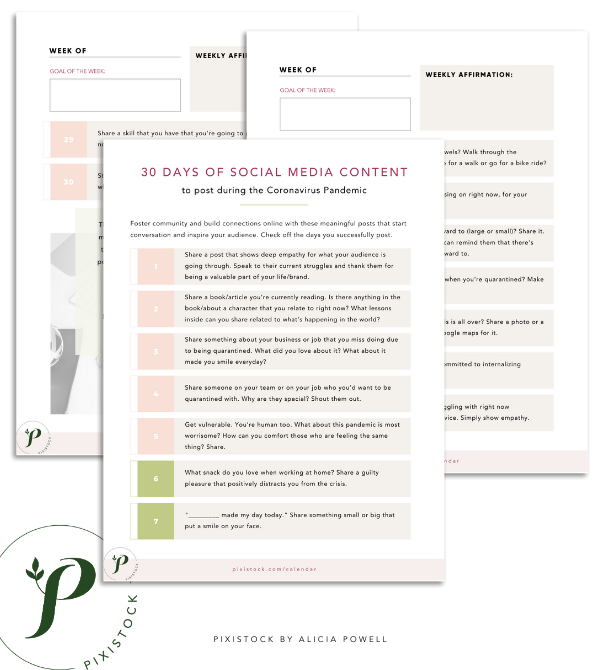 Stuck inside is not so bad. Share your favorite thing to do alone whenever you have a quiet moment.
Share a book you're currently reading. Is there anything in the book/about a character that you relate to right now? What lessons are inside that you can share related to what's happening in the world?
Share something about your business or job that you miss doing due to being quarantined. What did you love about it? What about it made you smile everyday?
Share someone on your team or on your job who you'd want to be quarantined with. Why are they special? Shout them out.
Get vulnerable. You're human too. What about this pandemic is most worrisome? How can you comfort those who are feeling the same thing? Share.
What snack do you love when working at home? Share a guilty pleasure that positively distracts you from the crisis.
_________ made my day today. Share something small or big that put a smile on your face.
Is there a blog post (yours or other) to share that can positively help your audience's mental state during this time? Share and link.
Share a quote authored by yourself to keep your spirits and your audience's spirits lifted.
Share 5 things you are grateful for in your personal or professional life.
Isolation doesn't mean you can't connect online. Post a simple video chat with a friend, client, customer or biz bestie and share a topic or some laughs.
Today my kids/spouse did ________. Share a funny story about something your kids/spouse are doing to lighten the mood.
Start a 7 day or 30 day to do list. Each day share something that you've gotten done that you wouldn't otherwise have had you not been at home.
Share ways that you are planning ahead in your business or with your family/kids.
This or that - toilet paper or paper towels? Walk through the neighborhood or sit on the porch? Go for a walk or go for a bike ride?
Share the number 1 thing you're focusing on right now, for your business or in your personal life.
What's something you're looking forward to? Share it. If your audience is in low spirits, this can remind them that there's always something to look forward to.
Share a selfie - what do you look like when you're quarantined? Make this light and humorous.
Where do you hope to travel when this is all over? Share a photo or a quick boomerang of you searching Google maps for it.
What is a positive word that you're committed to internalizing throughout this process?
Ask your audience what they are struggling with right now and respond without a product or service. Simply show empathy.
Share a recent win and ask your audience there's. Large or small, celebrate together.
Remind your audience of and share one of your free resources.
Share a meaningful post from one of your followers, group members, or clients/customers to your stories.
How is your business committed to serving your customers at this time? What can you do? Share your commitment statement to your customers.
When this is all over, my goal is to________. Share a goal, and ask your audience theirs'.
It's Spring! Share a Spring activity you do in your business, with your family, or friends. You could also post a throwback photo of last year's Spring.
Do you keep a journal? What did you write about today? Share your thoughts.
Share a skill that you have that you're going to perfect or try more of now that you have extra time.
Share a post that shows deep empathy for what your audience is going through. Speak to their current struggles and thank them for being a valuable part of your life.
Remember, it's okay to pause and take a break from your business if you feel you must do so for your family and personal mental health. 
Just remember to come back to your audience.
They are still there, whether they are in the thousands or hundreds, waiting to hear from you.
Don't focus on selling if you're not comfortable with it right now. Focus on strengthening the relationship between you and your tribe in order to grow your audience.
Get all of my strategies, stylish photos, graphic templates and more to create better content for your brand. Enter your info below to stay updated!